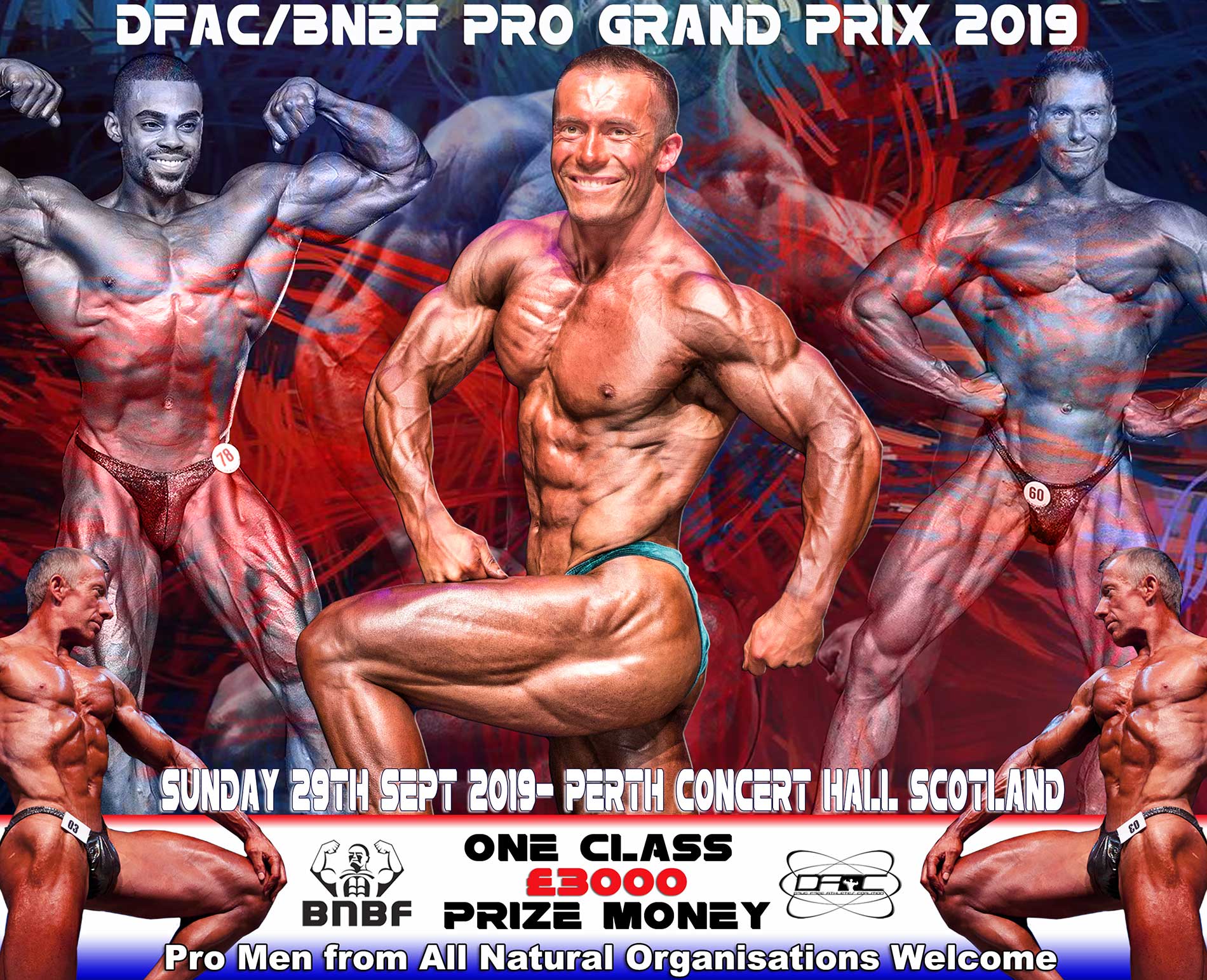 DFAC Pro Grand Prix 2019 to be held on 29th Sept in The Perth Concert Hall Perth Scotland
You will be required to pass our polygraph test before being allowed to compete. Tests will be carried out in the Host Hotel: The Premier inn Perth.
You will be required to pay £50 for your polygraph and it is paid directly to the polygrapher at the time of the test. Polygraph test time will be allocated on receipt of your entry.
Please complete the form below and return with entry fee by 12th Sept 2019. Make sure your DFAC Membership is up to date!
The following substances and related compounds are banned by the BNBF and their use constitutes grounds for dismissal from BNBF competitions and suspension from membership in the organization.
ANABOLIC STEROIDS.
TESTOSTERONE (Testosterone/epitestosterone Ratio)
The T/E ratio is used to measure the presence of exogenous testosterone, or illicit elevation of testosterone levels. A T/E  ratio in excess of 4/1 is ruled as positive, no matter what the cause.
GROWTH HORMONES (pharmaceutical HGH, HCG and any other related compounds)
HORMONES AND PRECURSORS The use of any hormone including T3 and T4 (injectable, oral, sublingual or otherwise) including insulin is strictly prohibited. All hormonal precursors ( androstenedione, 19 norandrostenedione, etc.) are banned.
PRESCRIPTION DURETICS (Fen-Phen and all other prescription weight-loss substances used for bodybuilding purposes, even when physician-prescribed are banned by the BNBF)
PSYCHOMOTOR STIMULANTS
MUSCLE IMPLANTS OF ANY KIND
CHEMICALS/DRUGS USED TO DECEIVE OR PASS POLYGRAPH
CLENBUTEROL AND GHB
ANY ILLEGAL OR ILLICIT BODYBUILDING DRUG OR SUBSTANCE
ANY FDA-BANNED SUBSTANCE UNLESS INDICATED
ANY IOC-BANNED SUBSTANCE UNLESS INDICATED
Note: Should there be  an elevated T/E ratio in excess of the 4/1 limit, the athlete will be ruled as positive (failure). Likewise the presence of any banned substance in the urine (i.e. nandrolone) no matter how it arrived there is ruled as positive (failure)
Products that contain ingredients that have chemical names similar to anything on the banned substance list could potentially cause a positive urine test result. Check with the BNBF drug testing officials if uncertain as to whether a particular product is disallowed or not.
Any use of a banned substance in the case of a medical circumstance, requires an application for exemption. This should be initiated by a letter from a doctor which should accompany this application. The BNBF will thereupon investigate the substance in question and its usage and make its own decision on whether you are eligible for BNBF Competitions.
Enter the men's DFAC Pro Grand Prix 2019 below: